Grapple With Any Challenge Through Brazilian Jiu Jitsu!
You may be wondering... what in the world is Brazilian Jiu Jitsu?
It's a difficult question. BJJ is an art, a combat sport, and a self-defense system. It's also a great tool for creating robust fitness and a powerful core, plus you'll discover that this martial art has a devout following and will connect you with a warm, passionate community. At Ares Athletic Club and CrossFit A Game, we teach Jiu Jitsu that contours to your goals, so whether you want to lose weight, build muscle, or work towards a black belt, we can help!
Just fill out the short form below to learn more about Manahawkin's most exciting BJJ program.
Why Choose Brazilian Jiu Jitsu?
Besides getting an awesome workout, Brazilian Jiu Jitsu will help you reduce your stress and feel better in everyday life. The first step in any program at Ares Athletic Club is an assessment to determine your fitness and your goals, so whatever you're hoping to gain out of martial arts classes, we've got your back.
Our Brazilian jiu Jitsu program has helped men and women from around the Manahawkin, Long Island Beach, and Barnegat areas reclaim their fitness and revitalize their life. Once you step onto the mats, you'll discover the wealth of positive change that Brazilian Jiu Jitsu can bring to you!
By training in BJJ, you get access to:
A dynamic fitness system that will help you lose weight, and build lean muscle
Boosted energy, higher-quality sleep, and greater overall wellness
Real-world self-defense skills that will help you protect yourself and your family
A passionate community of fellow practitioners to guide and support you
At Ares Athletic Club and CrossFit A Game, we are proud to offer the best Brazilian Jiu Jitsu program in the Manahawkin area. When you train with us, you'll get personalized attention and unlimited support as you strive to achieve your goals. From white belt to black belt, individuals of any age or background is welcome to join us on the mats and sweat it out.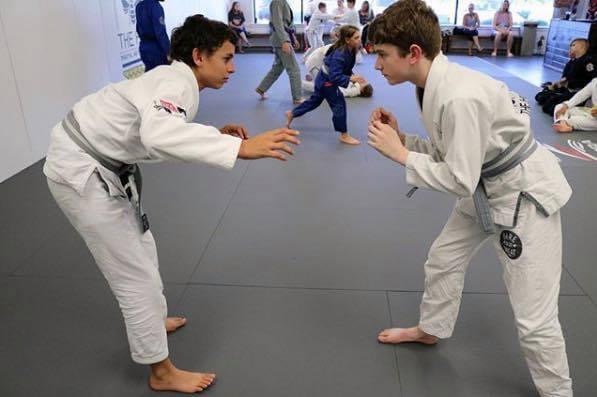 Discover Manahawkin's Ultimate Jiu Jitsu Program!
Whether you hope to learn self-defense, create powerful core muscles, or learn self-defense for any situation, Brazilian Jiu Jitsu offers incredible benefits to anyone willing to show up and roll. Join us at Ares Athletic Club and talk with one of our world-class instructors about whether Jiu Jitsu is the right choice for you! You'll join an incredible community of men and women from around the Manahawkin area and fast-track your fitness goals.
Simply fill out the short form below to get started with Brazilian Jiu Jitsu!